AstrologicPC v319en12 -September 2021



Download : en_SETUP_AL319_v12_2021sep26

  Video : AstrologicPC VirtualDisc
Download and install : After downloading, start the setup program and follow the instructions. If you have a valid license, please run AstrologicPC and enter the license.
If you don't have a valid license, AstrologicPC will run in test mode for a limited time.


Preview Windows 11
According to the current status, AstrologicPC will also be executable on Windows 11. Here is the result of a test on Windows 11: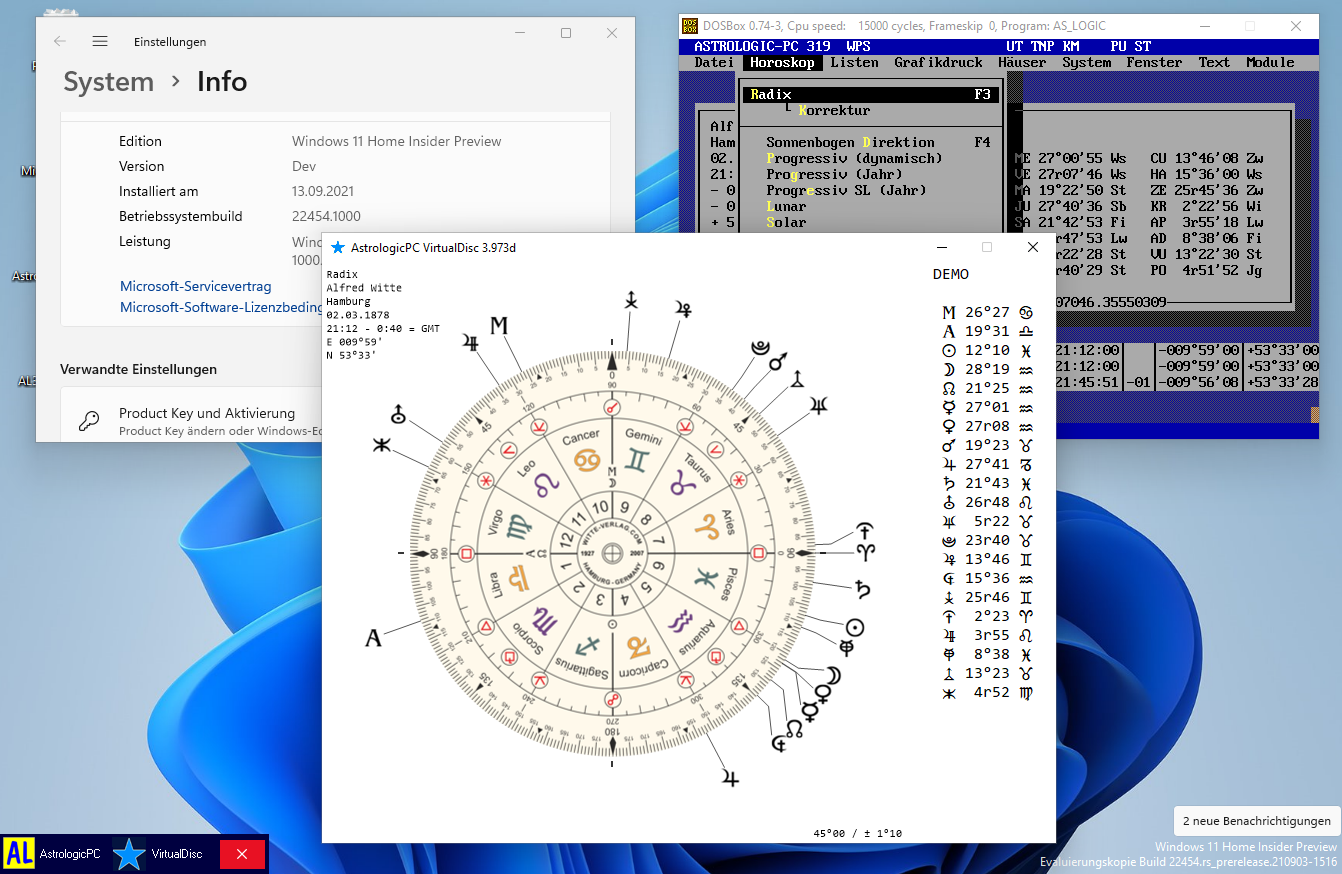 Comments

1. AstrologicPC 319e [25.01.2021]
The calculation quality has been revised. The DeltaT correction according to Espenak & Meeus (2006) added (see NASA,
Espenak & Meeus ΔT
), whereby changes of the DeltaT were adapted to current values. The deviation in the years 2005-2019 for AstrologicPC is ≤ 0.2", instead of "Espenak & Meeus ≤ 2". Planetary calculations were revised [v318]. Especially the pluto positions are now much more reliable in historical horoscopes - i.e. before 1900. Several internal changes have also been made to allow new program components to work better with AstrologicPC. This version contains the revised rules of the
RULES FOR PLANETARY PICTURES
(official revision 2020).
Available as a printed book.
Retrograde information improved.
2. VirtualDisc v3.975e [26.09.2021]
AstrologicPC contains the program "VirtualDisc." VirtualDisc was originally developed for training and presentations at the < Astrological Study Centre Hamburg School > and is still in development. With this version of VirtualDisc you can examine and display houses, axes of individual factors as well as axes of Midpoints (halfsums) in a radix-horoscope. VirtualDisc provides a virtual disc (dial) in 360° and 90° for the examination purposes. The program "Readme" describes, among other things, the use of VirtualDisc. The operation of VirtualDisc is simple, so little information and examples are enough.
Several instances of VirtualDisc can be opened, which allows an examination with different dials, axes or horoscopes. Once a new Radixhoroscope has been calculated using AstrologicPC, VirtualDisc automatically updates the display.
Warning: In test mode, the horoscope is not updateable!
3. WPS (printer) [25.09.2021]
WPS is a program responsible for the printer output of AstrologicPC. It is automatically activated when AstrologicPC is launched. For many users, this program has been running unnoticed in the background since 2005. This version works more reliably and avoids incorrect settings of the printer connection.
4. Start Options  [25.09.2021]
Start Options is used to adjust the window size. Finally, AstrologicPC and VirtualDisc can be launched. When AstrologicPC or VirtualDisc is launched, the "AstrologicPC StartPanel" is also activated.
New in 2021: the WPS settings are also available here; the AstrologicPC window can be enlarged to 90%.
5. Start Panel  [25.09.2021]
The "Start Panel" is a reduced variant of the "Start Options." The Start Panel is shown on the main screen at the bottom left and allows the start of AstrologicPC and VirtualDisc. This is especially helpful for VirtualDisc because you can load multiple instances of VirtualDisc. New in 2021: Mouse on panel without action 5 sec shows title bar to move panel on screen.